We were unable to process your request. Please try again later. If you continue to have this issue please contact customerservice@slackinc.com.
Adults with depressive symptoms used more humor and sarcasm to cope with challenges brought on by the COVID-19 pandemic, according to survey results.
Further, adults with anxiety used more sarcasm but less humor during the pandemic, and those with psychiatric disorders reported using more humor.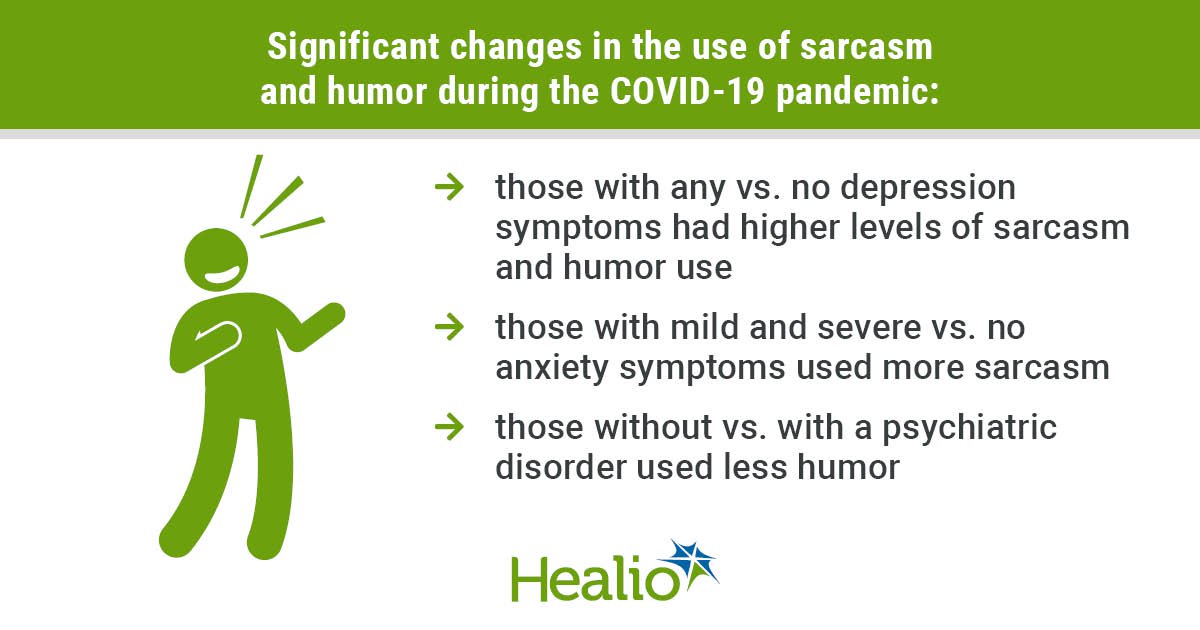 "During the COVID-19 pandemic, individuals have reported using drugs and/or alcohol, eating, engaging in physical activities and various hobbies as the most frequently used coping strategies," Kathrin Rothermich, PhD, assistant professor of the department of communication sciences and disorders at East Carolina University, and colleagues wrote. "Collectively, these strategies involve 'doing something' or using/consuming substances. However, humor use, which is psychological in nature, can also increase wellbeing, and serve as a putative coping strategy."
Using the Patient Health Questionnaire (PHQ-9) and General Anxiety Disorder scale (GAD-7), Rothermich and colleagues digitally surveyed 661 Canadian adults during the height of COVID-19 restrictions, between April 27 and July 17, 2020. They obtained responses using a community-based recruitment approach. Questions involved topics such as current presence or absence of psychiatric disorders, changes in humor or sarcasm use during the pandemic compared with before it and basic demographic information. The researchers removed incomplete surveys before analysis.
Most participants were aged 30 to 64 years, and 77.3% were women. A total of 164 participants reported having a current psychiatric illness, of whom 117 had anxiety, depression or both. Respondents scored on average 6.84 on the PHQ-9, indicative of mild depression, and 5.43 on the GAD-7, indicative of mild anxiety based on the 2 weeks before the surveys were submitted.
Rothermich and colleagues noted participants with any vs. no depression symptoms had higher levels of sarcasm and humor use during the pandemic. Those with mild and severe vs. no anxiety symptoms used more sarcasm. However, those with any vs. no anxiety symptoms were less likely to use humor during the pandemic. The researchers observed less humor use those without vs. with a psychiatric disorder.
The study's reliance on self-reporting could have impacted the conclusions made, according to Rothermich and colleagues.
They noted that the findings suggest humor and sarcasm use may differ as a potential coping strategy based on the presence and absence of anxiety or depression symptoms.
"These data point to some distinctions in the use of humor and sarcasm as putative coping strategies or simply behavioral reactions during trying times (ie, early stages of the COVID-19 pandemic) in individuals with anxiety and depression symptoms, and mental illness more generally," Rothermich and colleagues wrote.