We were unable to process your request. Please try again later. If you continue to have this issue please contact customerservice@slackinc.com.
Snoring among adolescents correlated significantly with depressive symptoms and suicidality independently of sleep duration, insomnia and daytime sleepiness, according to a survey study conducted in South Korea.
"To the best of our knowledge, this is the first study to investigate whether self-reported complaints of snoring among adolescents are related to depressive symptoms or suicidality," Hyunwoo Jeong, MS, of the Geumsan-gun Public Health Center in South Korea, and colleagues wrote.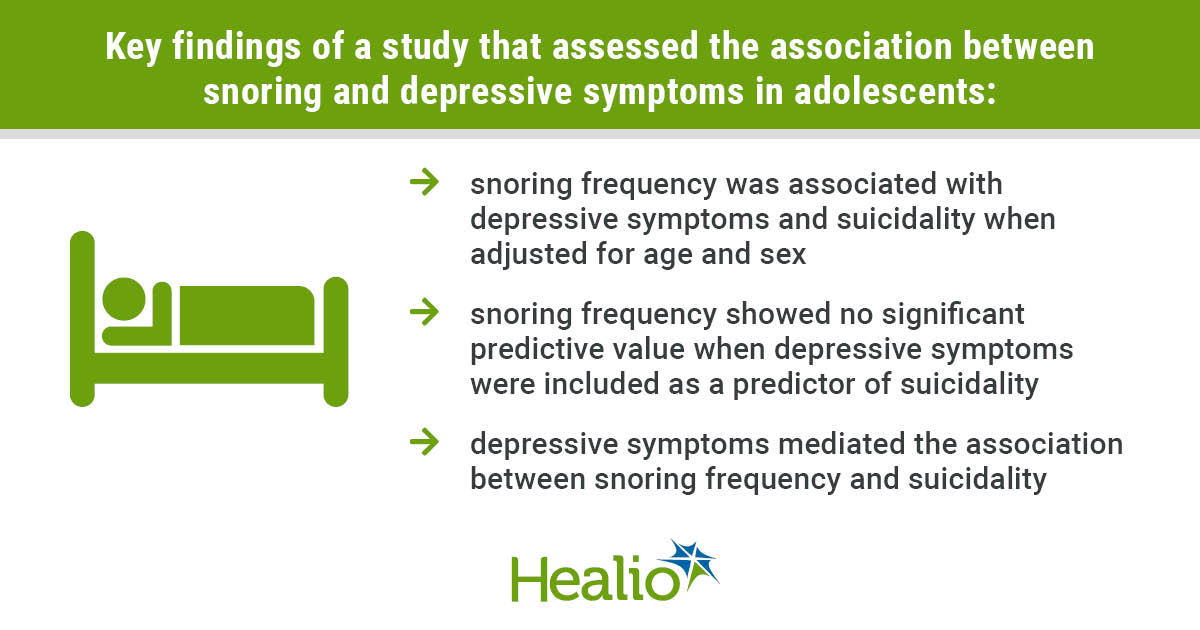 They added, "The results of the study highlight the need to pay attention to self-reported complaints of snoring in adolescents to improve their mental wellbeing."
Jeong and colleague investigated the association between snoring and depressive symptoms and suicidality among adolescents by examining survey responses from 8,080 students on their sleeping patterns, depressive symptoms, suicidality, snoring frequency, daytime sleepiness and insomnia. Participants completed the Korean versions of Beck's 19-item Scale for Suicide Ideation 21-item Beck Depression Inventory and modified seven-item version of the Epworth Sleepiness Scale. They assessed associations by conducting correlation, multiple linear regression and mediation analyses.
Participants questions such as, "On average, on how many nights per week do you snore?" "On average, how many hours do you sleep on weekdays?" "Over the last month, how often did you wake up frequently after falling asleep?" and "Over the last month, how often did you wake up early and could not fall asleep again?"
Male participants reported less severe depressive symptoms and lower suicidality despite a higher frequency of snoring. Also, snoring frequency was positively correlated with depressive symptoms and suicidality as well as sleep duration (P = .02) and daytime sleepiness (P < .001). The association remained consistent even after adjusting for sleep duration, insomnia and daytime sleepiness. When they included depressive symptoms as a predictor of suicidality, Jeong and colleagues found that snoring frequency no longer showed significant predictive value. They also confirmed that depressive symptoms mediated the association between snoring frequency and suicidality.
The researchers recognized several limitations that could affect the accuracy of their findings, such as the relatively small study size, relying on self-reported data and surveying only Korean adolescents.
"Our findings suggest that self-reported complaints of snoring are associated with increased depressive symptoms and suicidality in adolescents independently of sleep duration, insomnia and daytime sleepiness, and the connection between snoring and suicidality is mediated by depressive symptoms," Jeong and colleague wrote. "These data underscore the importance of identifying snorers among adolescents and screening for depression and suicidal ideation in this population."